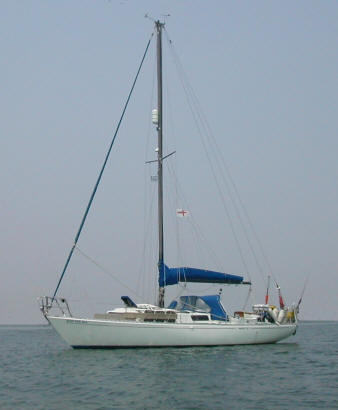 "Rhumb Do"

Photographed off Preveza, Greece, July 2007.

TRIDENT

WARRIOR 35 Mk III

She is boat number 107 and her hull was moulded in 1977.

She was built and certified to Lloyds 100A1, fully fitted by the factory in Portchester, England and launched in 1978.

BUILT BY TRIDENT MARINE, PORTCHESTER, HAMPSHIRE, UNITED KINGDOM

DESIGNED BY:- ANGUS S. PRIMROSE
| | | |
| --- | --- | --- |
| L.O.A. | 35.10 ft | 10.7 m |
| L.W.L. | 26.20 ft | 8.0 m |
| Beam | 10.50 ft | 3.2 m |
| Draft | 5.0 ft | 1.52 m |
| Displacement | 5.5 tons | 5600 kg |
| Ballast | 2.3 tons | 2318 kg |
| Mainsail | 228 sq ft | 21 sq m |
| Working Jib | 209 sq ft | 19 sq m |
| Engine | Mercedes Diesel OM636 36 hp. 26 Kilowatts | Fresh water cooled via heat exchanger. |
| Berths | 6/7 | In 3 cabins |
| Fresh Water | 60 gallons | 272 litres |
| Diesel Fuel | 27 gallons | 122 litres |
Angus Primrose, the designer was also responsible for the design of some 'Moody' yachts and Sir Francis Chichester's "Gypsy Moth IV".
Angus tragically lost his life in 1980 when the Moody "Demon of Hamble" sank.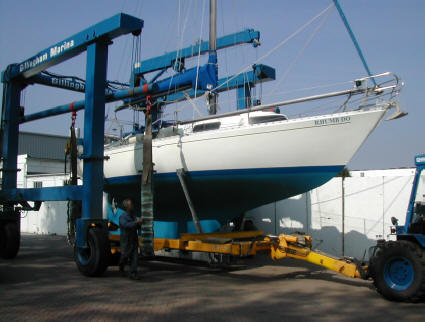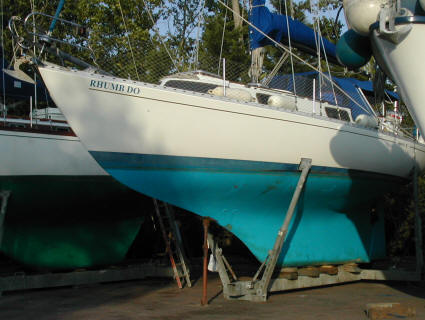 Mini refit - July 2006 in Gillingham Marina, Kent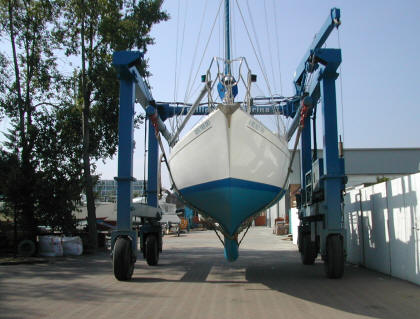 24th July 2006 - Re-launch day.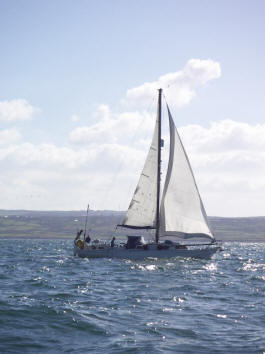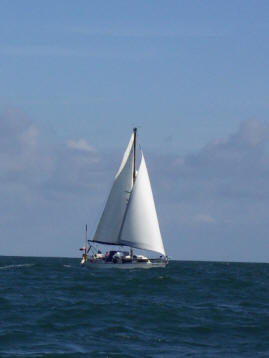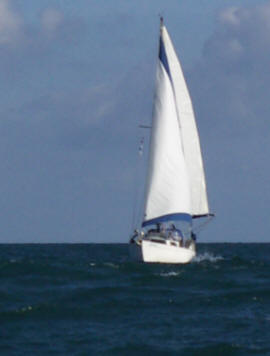 Why the name "RHUMB DO?"
My friend Sandra came down from Lincoln for a sailing weekend with me onboard Merlin II. She quickly caught the sailing bug and made regular visits to learn more about sailing. When I bought this boat, I was having trouble thinking of a name for her and although I tried to think of something connected to the Solomon Islands (a favourite place), nothing came to mind.
Sandra of course wanted to come down for a trial sail which we did in August 2006. Returning to the marina from that sail, Sandra suggested a sundowner but the boat was then unstocked, and there wasn't any alcohol onboard. When I gave her this bad news, she responded with "Well, that's a rum do," and I instantly thought "That's it!" Rum Do was a common phrase from my home county of Lancashire, so it seemed an appropriate name for the boat. I just altered the spelling a bit to play on the nautical side (Rhumb Line) and the boat had a new name!
Sandra continued sailing by taking a course in the Caribbean. She now lives in Perth, Western Australia where she sails with the local club.
A rum do
An event that is disreputable or strange.
The 'rum' in 'rum do' is an adjective meaning 'odd' or 'strange', and nothing to do with the drink rum. The rum has reached us by a tortuous route. In the 16th century the adjectival meaning was almost precisely the opposite of the current sense - it then meant 'excellent' or 'great'. In A Dictionary of Slang and Unconventional English, Eric Partridge lists no fewer than 93 'rum' phrases, many using this earlier meaning. For example:
rum buffer - an excellent dog
rum chant - a good song
rum clout - a fine handkerchief
rum doxy - a handsome whore
rum kicks - breeches of gold brocade
These terms have now entirely disappeared from everyday language. What is unusual is these phrases with the opposite meaning were all in use at the same time as the above:
rum customer - a dangerous fellow
rum do (or 'rum go') - a strange event
rum phiz - an odd face or countenance
rum gagger - a teller of tall tales
rum touch - an odd or eccentric fellow
There must be many more than those on Partridge's list as 'rum' could be used to precede almost anything, but the only ones to survive have the 'odd, perplexing' meaning. For example, 'rum do' and 'rum customer'.
Why the meaning of 'rum' altered isn't clear. It may be that many of the phrases that employed the earlier 'good' meaning applied to people that were good at lawbreaking or disreputable behaviour. For example:
rum bubber - a person skilled at stealing silver tankards from inns
rum fun - a clever swindle
rum diver - a skilled pickpocket
rum mizzler - a thief, adapt at escaping
rum padder - an upper-class highwayman
It could be, and this is speculation, that 'rum' migrated from simply 'good' and came to mean 'good at being bad'. From there it is a short distance to 'disreputable' and 'strange'.
Did you enjoy your visit onboard? Please sign my Guestbook
At sea, off the coast of France