SUNSET FROM SPACE
This historic photograph of Europe and North Africa was taken on an almost cloudless day, by the crew of Columbia, on her last mission.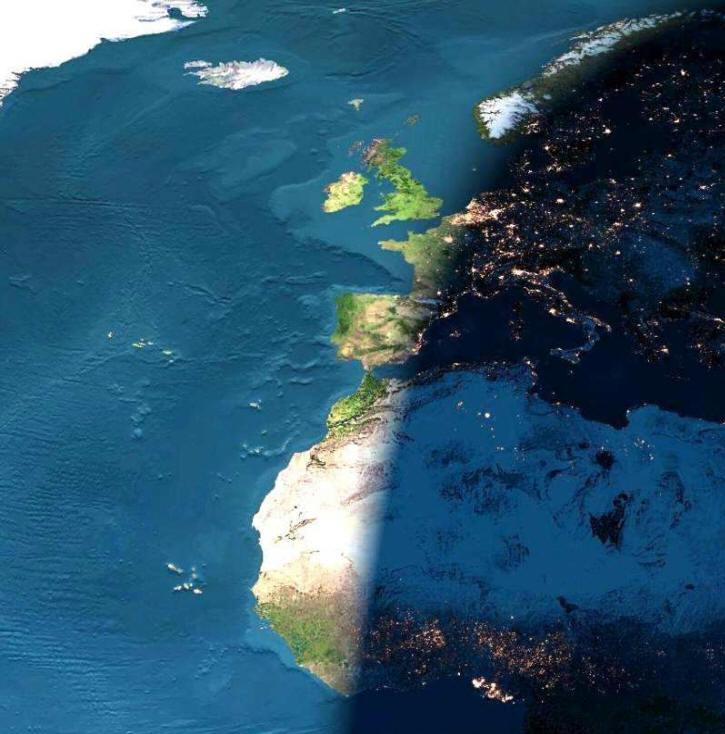 To the top left is Greenland, totally frozen, with Iceland to the east. Further east, Norway is covered in snow.
The sun is setting and half the photograph is in darkness. The bright dots you see are the lights of the various cities. It is night-time in Holland, Paris and Barcelona, whereas it's still daylight in London, Dublin, Madrid and Lisbon. The straits of Gibraltar are in sunshine, but the Mediterranean is in darkness.
The top part of Africa is the Sahara Desert - it is huge, and can be clearly seen in both the day and the night portions of the photograph.
In the middle of the Atlantic you can see the Azores; below them to the right is Madeira; a bit below are the Canary Islands and further south, close to the furthest western point of Africa, are the Cape Verde Islands.
(If you look really closely, you can pick out "Rhumb Do"............Ian is the one with the red t-shirt on, sitting in the cockpit!!)